I run my own business so finding time every fortnight to visit the salon and have my eyebrows waxed, tinted and growth serum applied is a challenge. Generally, it is left to last and after six weeks I visit the salon to which my therapist shrieks, asks where I've been and commands I'm back every, single, fortnight! I mean I just don' know how anyone has the time!
About a month ago I ran into an old friend and commented on her immaculate brows, she had been to see Anthea and told me about her Feather Touch Brows.
Anything that can save me time is a godsend and if it makes me look good too well that's a huge plus.
I went in for a consultation that week where the lovely Anthea measured aspects of my face and drew on the shape that my natural brow should take, we talked about size and length and I booked my appointment on the spot. I've now had my first treatment and am ready for my second. In two weeks I've had a total of 8 compliments and saved myself 3.5 hours of drawing on brows! SO – It's safe to say I am in love with my new brows!
!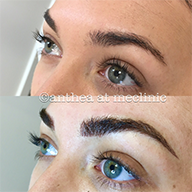 A Me Clinic Surgeon is a guarantee of an experienced and skilled Cosmetic Surgeon with many years of Cosmetic Surgery experience and who abides by the highest code of ethics and always act in the best interests of the patient. We specialise in procedures ranging from labiaplasty to liposuction. For a full range of our specialisations go to our Body Selector Tool.