by Rowena Marinucci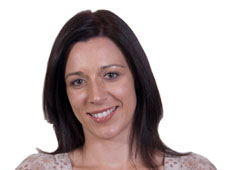 After many years of dealing with self esteem issues I decided that I wanted to have Breast Augmentation surgery. This was a decision that I had considered many times over from when I was 18 years of age.
I went through high school very self conscious about the way my breasts looked. I am quite tall and of average weight but felt very out of proportion. Shopping for clothes was never fun as nothing would ever look right!!
I had worked with Dr. Ashley Granot at the Me Clinic for a number of years and Dr Ashley and his team were very supportive of my feelings and decision to have Breast Augmentation Surgery.
Consultation Day
I met with the Surgeon at the Me Clinic and discussed my reasons for wanting this surgery. After a long discussion on breast proportion and breast implant types and sizes, risks and complications, I tried some different size implants to see how I would look after surgery. Looking in the mirror even with the sample implants "on" me I felt more in proportion. I had all my questions answered with empathy and understanding and my Surgeon was very professional which put me at ease.
Booking Surgery & Pre Operative Consultation
So I finally made the decision to have the surgery. Yay!!! I booked my surgery date and had my pre operative appointment with the Nurse at the Me Clinic who again explained the procedure in detail to me and what to expect during and after surgery.
Day of Surgery
I arrived at the Day Surgery in the morning and I was admitted by the Nurses in a calm and stress free manner.
We had some further paperwork to fill out and I had the opportunity to speak with the Director of Nursing, the Anaesthetist and my Me Clinic Surgeon once again. Once these preliminaries were over I was wheeled into theatre.
Right after surgery
I was only under sedation for a short while. My nurse asked if I had any pain and if so what level of pain, which was minimal. After my recovery I was asked by the Nurse if I wanted to have a "look". I could not wait to see the difference. And there they were! I was so excited and happy.
After a little while I was discharged, I was driven home and had a lazy afternoon. I kept up my fluids and pain relievers. I was feeling great and not experiencing much pain, so I was up walking around and had something to eat. It was a little uncomfortable the first night as I had to sleep on my back upright which I was not used to.
Day after Surgery
I had my first post operative check the day after my surgery. It was all good news and I only had some bruising, a tight feeling in my chest and a little swelling which was completely normal.
Over the next week I experienced a little discomfort, some numbness, tenderness and a tight/stretching feeling.
A week after Surgery
At this stage my breasts were still quite firm to touch and still numb around the incision site. The bruising had faded and the tightness had subsided a little more. I could start to sleep a little more comfortably on my side. I started driving my car day 3 days after surgery and I returned to work 6 days after the procedure.
Four weeks after Surgery
I was completely happy with the decision to have Breast Augmentation surgery. Admittedly I did receive a couple of unsupportive comments when I initially told a few close friends and family of my decision. However at the end of the day I did this for me and ME only!!
16 months after Surgery
I feel AMAZING… I regretted taking nearly 12 years to make a decision that has made me incredibly happy. Although some would say its vanity, you should love your body the way it is, I can honestly say for me personally it was one of the best decisions I have made. You can't put a price on self confidence and just feeling happy about yourself.
I have now started to appreciate my body and also appreciate myself as a person rather then look at myself in a negative way. The surgery has given me a new confidence, I have better posture and stand straighter, I don't hide myself behind my hands, and I am happy to look at my body and as it now looks in proportion. I feel confident wearing clothes that I only dreamt of wearing a few years ago was not confident enough.
Dr Ashley and his team at the Me Clinic were amazing and I can't thank them enough for all their assistance and the amazing care they provided to me.