Dr Ashley Granot – Talks to the Weekly Review about cosmetic surgery and the increase in Man Boob surgery
MEN are fixing their man-boobs at a record rate, according to Stonnington's largest cosmetic surgery, The Ashley Centre.
The cosmetic and elective surgery clinic in Burke Road, Malvern East, has recorded a 50 per cent increase in men presenting for gynaecomastia surgery in the past five years and an average 20 per cent yearly increase.
Gynaecomastia, or "man-boob surgery" is treated using either liposuction or reconstructive cosmetic surgery.
Medicare figures show gynaecomastia surgery has risen only marginally across Victoria, from 960 claims in 2007 to 970 in 2011-2012.
But according to The Ashley Centre's head cosmetic surgeon, Dr Ashley Granot, the centre has seen a significant weekly increase in men presenting for gynaecomastia procedures.
"The figures are based on the Medicare rebate. Only about 80 per cent of clients claim a Medicare rebate," Dr Granot said.
"Each week I treat up to three men for gynaecomastia. Five to seven years ago, I would have only seen one every six weeks."
Currently, gynaecomastia procedures attract a rebate ranging from $346 to $505.
Of the claims relating to gynaecomastia procedures, liposuction claims rose 41 per cent from 142 claims in 2007-08 to more than 200 last year.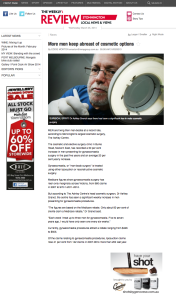 Read the full article at: The Weekly Review