Me Clinic are experts when it comes to skin cancers, moles, skin tags, and other growths on the skin. These pesky growths are removed by a cosmetic surgeon and we can remove a mole from anywhere on the face and body. By using a cosmetic surgeon you are lowering your risk of scarring, especially if the treatment is on a part of the body that is always visible.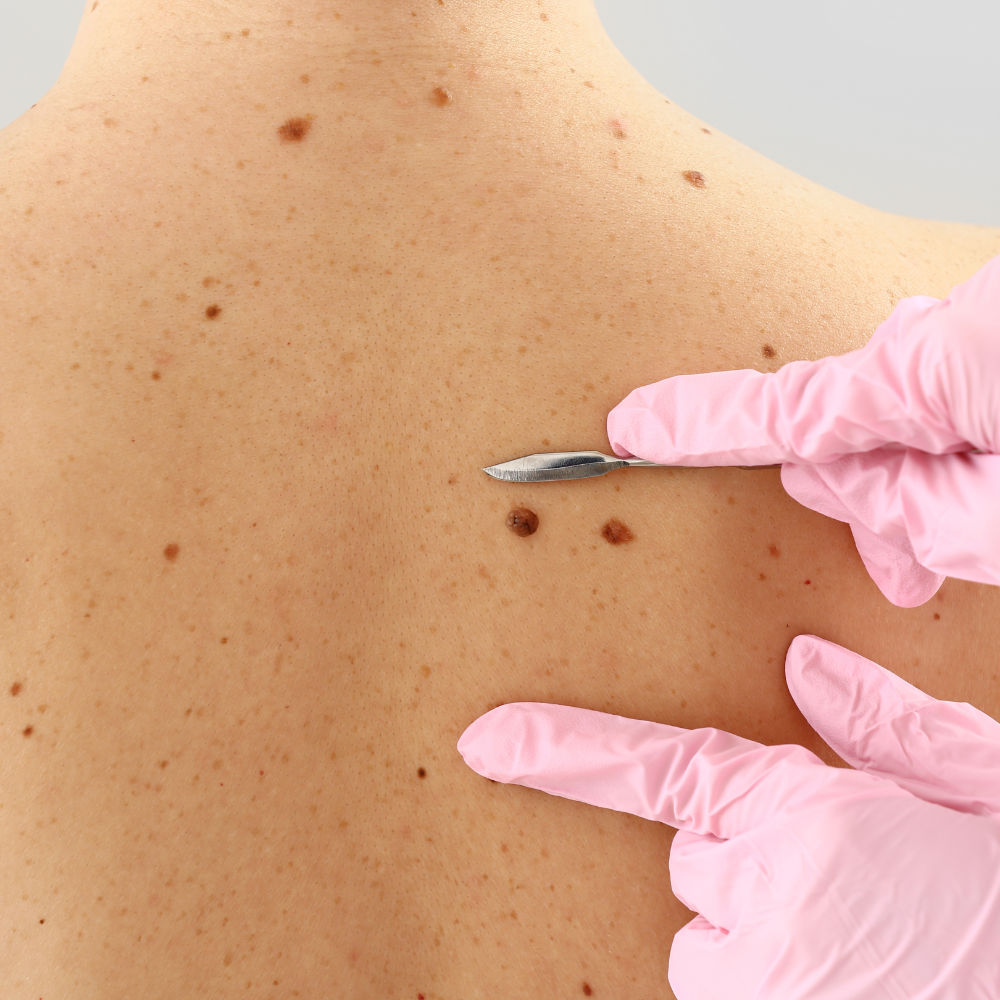 Serving the Melbourne area, our skin cancer and mole removal procedures are performed by our highly skilled surgeons. Contact us today to schedule a consultation and find out more information about skin cancer and mole removal.
How to distinguish between normal moles and atypical carcinogenic moles?
The melanocytic nevi (moles) are common in all people. They can be located anywhere on the skin and are mostly found on areas that are exposed to the sun.
Normal or common moles are usually flat or rounded in shape, and symmetrical in structure, with regular edges. They are smaller than 5-6 mm in size. Some start as a stain and over the years they take on a lighter colour and soften. Sometimes they can grow hairs.
Whereas, some moles, called atypical, have a higher risk of becoming a form of skin cancer called melanoma. They are usually larger than 6 mm, slightly asymmetrical in shape, and several shades of pinkish brown and different from each other. They predominate in the chest and in the back but can be located in any part of the skin and have a higher risk of malignant transformation.
What are the right steps to control moles?
Consult your doctor for any change you notice in a mole or spot, or wounds that do not heal. Observe your moles and spots personally on a regular basis, with the help of mirrors or another person.
A stitch in time saves nine; so get your mole checked today and be free from the worry of melanoma/skin cancer. Finally if you have a mole, get it removed by a cosmetic surgeon so you get minimal to no scarring.
At me clinic, we can help restore your skin health by removing moles of all shapes and sizes. Your moles can be removed for purely cosmetic/aesthetic reasons or for medical reasons.
How are Skin Cancers and Moles Removed?
One of our experienced cosmetic surgeons meets with you first to examine the mole or skin problem. A number of mole removal methods are available and are discussed with you. After your discussion, we will arrange a time for your mole removal procedure.In most cases moles are removed by an RF shave (radio frequency shave) this is done under a local anaesthetic, it requires no cutting of the skin and is our preferred method of mole removal as it leaves none to virtually no scarring. This is a walk-in walk-out procedure and is suited to many raised moles.
Flat moles are generally removed by Aura Laser – the aura laser light is absorbed well with dark pigment. This light reduces the colour of the pigmentation.
For some patients the best method of removal is by excision again this is performed under local anaesthetic and will require the skin to be cut. Therefore a scar will remain. Our surgeons are highly skilled in ensuring that your scar is minimal. If required the excised mole will be sent off for pathology testing.
Your procedure is performed at our Malvern East clinic and is a walk-in walk-out procedure. You will be informed throughout the whole process about what is happening and what to expect.

What Can I Expect Afterward?
Our patients return to work and most normal activities immediately. Depending on your circumstance and condition, your surgeon will discuss with you what to expect after the procedure and if there will be any recovery time all relevant to your situation.
Am I a Good Candidate for Skin Cancer and Mole Removal?
This is a good question! The answer is, since we live in a country where the ozone has been depleted for some time which makes us vulnerable to harmful rays, we should in fact get checked at least once per year. Especially if your skin is susceptible to melanomas, and you already have a lot on your body.
So, the best way to determine if you need skin cancer or mole removal is to book an appointment with me clinic and get checked!
Contact me clinic today to schedule a consultation and find out more information about skin cancer and mole removal.
Our practitioners have over 35 years of experience so you can be assured that you will receive the right advice. Give the team a call on 9569 3511 and let us help you.