Have you been considering contouring your body with liposuction? Melbourne patients can consult with our experienced medical practitioners at Me Clinic for liposuction procedures, for answering any questions that you may have – including what form of anaesthesia best suits your needs.
One of these questions is often centred around the type of anaesthesia used during the procedure. Many people do not realise that liposuction actually can be performed under local or general anaesthesia. Unsure which may apply to you, in this blog we detail which cases apply to each type of anaesthesia, helping you gather more information to help with your decision.
As always, to receive a definitive answer on whether or not a liposuction procedure and which anaesthesia involved is right for you, you'll need to book your consultation. This first step will allow us to assess your situation and needs, ensuring that you choose the best path forward. When it comes to liposuction in Melbourne, patients can consider our Malvern facility where our dedicated Me Clinic team is ready to assist.
Local vs. general anaesthesia
The two options for anaesthesia during liposuction have one significant difference. With local anaesthesia, you remain awake, while under general anaesthesia, you will be asleep throughout the whole procedure. Both of these techniques have been used safely in many cases, but suitability can vary depending on individual health conditions and risks.
Local anaesthesia – This might be an option if you require a small amount of fat to be removed or prefer a slower, more incremental fat removal process. However, it's important to consult with a medical professional to determine the best option for you.
General anaesthesia – is often used when larger amounts of fat are required to be removed at once.
When it comes to choosing which is right for you, this is often determined by your current situation, needs and goals.
The benefits of local anaesthesia
As with any surgical activity, there are associated risks. With a local anaesthesia, these risks are lower when compared with the general option.

Before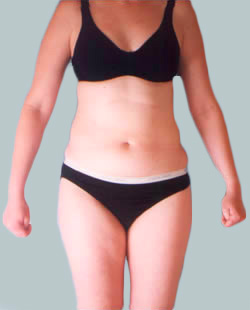 This 26-year-old patient wished to discuss liposuction to the abdomen and hip areas.
After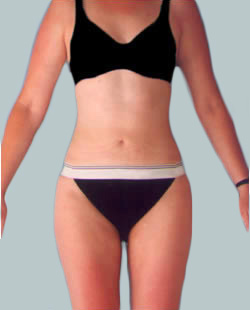 Liposuction was successfully performed to these areas to achieve an altered contour.
Liposuction, performed under local or general anaesthesia, is one of the procedures that can help in body contouring. The results can vary based on individual circumstances.
The recovery time with local anaesthesia is also much faster and does not require a wait time in a recovery room for any effects to wear off as general anaesthesia does.
The benefits of general anaesthesia
Not all situations are suitable for local anaesthesia. General anaesthesia might lend itself to a more comfortable experience, as you will not be awake for any of the surgical process, as comfort during a surgical procedure can vary greatly between individuals.
Mid- to large-sized areas require general anaesthesia making it more suitable for those looking to target the abdomen, hips, flanks or back. In these cases, general anaesthesia may be considered to help with safety and results, but this can vary based on individual circumstances.
The experience of the surgeon coupled with a thorough discussion with the patient determines the best approach. At the Me Clinic decisions are made in consultation with the patient and their desires.

Before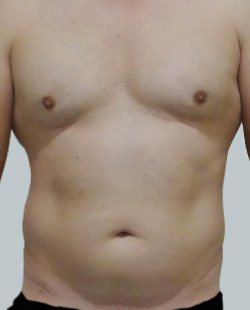 This 46-year-old patient sought advice on liposuction to the abdomen area.
After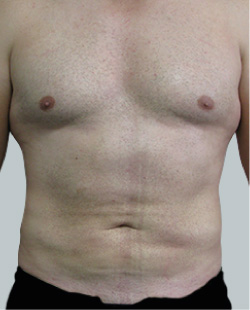 A liposuction procedure was performed on the abdomen and upper hips. The procedure was successful.
Tumescent liposuction is the most common and popular technique, which is why local anaesthesia or general anaesthetia can be used.
Choosing the best options for Liposuction, Melbourne can offer
If you are still unsure, it is important to remember that you do not need to find these answers by yourself. A consultation with the surgeons at Me Clinic will determine the best options for you to ensure you achieve your body goals.
Our surgeons have years of experience and a broad range of cases in their portfolio. It's important to discuss your expectations and potential outcomes with them.